Cleaning Services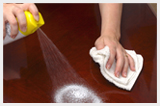 Some companies only give you a certain amount of time or charge extra for additional hours. We don't have a fixed number of hours. Your cleaning service rate is fixed and is for your entire property, not by the hour, so the team is in your property until it is properly CLEANED!
HDS Cleaning Services offers you a more personalized and thorough cleaning service, from the very first inquiry right through the job and completion of the works. A supervisor will always be working alongside the team on every job and supervising all works right until the end, always available to be contacted by you or contact you if the need arises at any stage.

We would not say that we are the best in the industry if we would not offer you a 100% satisfaction guarantee on every job. It will not be the case, but in order to reassure you any call back request to the property will be dealt with promptly (you heard right, we said promptly) and on the very same day it is bought to our attention with NO additional charges.

Communication is key to successful cleaning jobs or any other matter! Please contact us with your questions, feedback on how we can improve our future services, suggestions for additional services we can provide for you and your compliments of course.