End of Tenancy Cleans
Quality and value....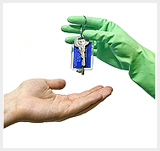 HDS Cleaning Services is part of HDS Group, all staff has been trained through our continuous learning process and are fully vetted in order to offer all our clients the very best and safest service in the industry.
That's right, we're sure you know that price is what you pay and value is what you get. Cleaning is really no different to anything else; you get what you pay for. We can tell you right now that we are not the cheapest cleaners in town but our rates will not break anyone's budget either. Our staff is well trained, earn above the minimum wage and with our continuous learning process you are sure to only receive the best!

HDS Cleaning Services uses non-toxic, environmentally-friendly cleaning products throughout the property, only applying additional mixtures on the most stubborn areas; we also try to recycle as much waste as possible in order to help our friend Earth.

HDS Cleaning Services is Fully Insured with £5,000,000 in general liability insurance to give you peace of mind and to protect your property, a copy of the insurance is available upon request.

If you would like more information or assistance on your end of tenancy cleaning services, please do not hesitate to get in touch!